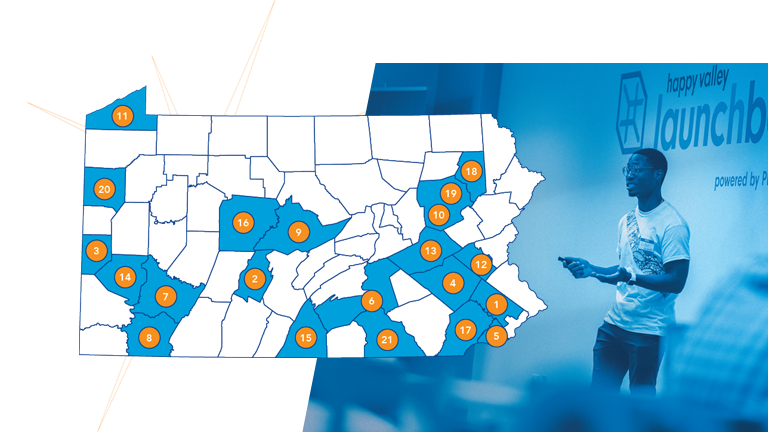 A vibrant grassroots network of community-based innovation hubs
21 LaunchBoxes and Innovation Hubs embedded within Commonwealth campus communities across the state provide a wide array of no-cost resources needed by entrepreneurs and innovators. Of those, 16 locations are LaunchBoxes™ providing specialized programs to launch startup companies. If your local Hub doesn't offer what you need, you can access the statewide network.
LaunchBox & Innovation Hub Network Celebrates 5 Years of Economic Development Success
Just five years after opening the first LaunchBox, Invent Penn State's LaunchBox & Innovation Network has grown to 21 locations...
Read More
Startup's Recent Success Tied to Penn State Entrepreneurial Ecosystem
This article is part of a series celebrating the five-year anniversary of Invent Penn State's LaunchBox and Innovation Hub Network....
Read More
Network Services
Accelerator
Makerspace
Prototyping
Legal & IP Advice
Co-working
Speakers
Competitions
Advisors
FREE services available through all innovation hubs
Legal & Patent Advice Entity formation, equity agreements, IP assessment
Business Advice Accounting, marketing, regulatory requirements
Accelerator Programs Customer discovery, minimum viable products, business model canvas, design thinking
Co-working Space Free hot desk space & wi-fi
464
new startup programs graduates
7,249
entrepreneurs supported
486
internships created for Penn State students
13,151
Faculty, students and staff engaged
Sign up for the monthly Invent Penn State newsletter