Create a Summer of Possibilities
The Summer Founders Program gives startups with at least one Penn State student founder a $15,000 grant to work on their startup, social good, or nonprofit idea over the summer.
Applications to the 2023 Summer Founders Program are closed. Check back in fall 2023 for more information.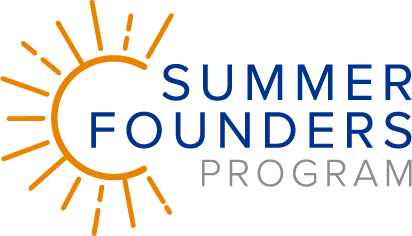 Important Dates 
Information sessions – January 25, February 15, March 1, 2023
Applications – Applications for our 2023 program will open February 6, 2023 and close March 9, 2023
Notification of Selection for Interview – March 13, 2023
Final Teams Announced – April 3, 2023
Summer Program Period – Program runs from mid-May through mid-August
About the Program
The Summer Founders program is a signature program of Invent Penn State provided in partnership with Happy Valley LaunchBox powered by PNC Bank.
The program provides the funding startups need to allow them to work full-time on their ventures over the summer.
In addition to funding, the program provides the mentorship and resources early-stage startups need to advance their ventures.
Founders must commit to work full-time (40 hours per week) on their ventures for the duration of the program.
Benefits of Participation
Startups accepted to the program have access to:
Weekly meetings and 1-on-1 coaching sessions with entrepreneurs and industry experts to discuss current challenges, share successes, and learn from each other.
Our network of 60+ advisers to grow their network and accelerate their ventures.
24×7 access to the Happy Valley LaunchBox facility and space in one of our team rooms, with free Wi-Fi, coffee, and printing.
Up to $1,500 in funding from the PNC Market Test Fund.
Teams have access to free server credits, SolidWorks, and a one-year POWr subscription valued at over $8,000.
Funding for an intern for one semester through the SEDTAPP ENtern Program
About the Funding
Funding is made possible through the donations of successful entrepreneurs interested in supporting new student ventures.
We do not take ownership or equity in your business or nonprofit. All we ask is that you commit to working hard on your project for the summer, making an impact in your community and beyond.
Funding is granted through the Penn State Development Office.
Donors
The Penn State Summer Founders Program is made possible by the following donors:
Ballantyne & Leonard Foundation
Brad Bogolea, Penn State Bischoff Entrepreneur in Residence
Chris Fanini, Co-Founder of Weebly
David Rusenko, Co-Founder of Weebly
Edward Hintz, President, Hintz Capital Management, Penn State Trustee
Ira Lubert, Chairman and Co-Founder of Lubert-Adler, Penn State Trustee
Matt Brezina, Founder of Xobni, Sincerely
Michael Seibel, Partner in Y Combinator, Co-Founder Socialcam and Justin.tv
Ryan L. and Meredith A. Newman
Robert A. and Linda A. Malecky
Are you interested in supporting this program through a tax deductible donation? We'd love to have you involved. Please contact Heather Winfield: hbw11@psu.edu
Frequently Asked Questions
Learn More About Summer Founders
Sign up for the monthly Invent Penn State newsletter