Next Event - March 30 - April 3, 2020
Important Notice: the University has canceled all event through at least April 3rd in response to the spread of Coronavirus. All featured in-person events and receptions for Startup Week have now been canceled. However, visit the schedule page on the Startup Week website for a list of classroom speakers who will present virtually.
Penn State Startup Week brings some of the leading minds in entrepreneurship and innovation to Penn State campuses across the Commonwealth. The 2019 Penn State Startup Week events featured entrepreneurial workshops; networking events; student pitch competitions; and presentations from startup founders and corporate innovators, including many Penn State alumni.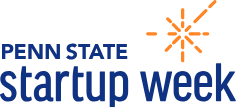 Inspiring Speakers
Hear from a wide array of talented entrepreneurs, from top corporate innovators to recent graduate entrepreneurs. Learn about their methods and keys to success–and pitfalls to avoid.
Resource Fairs
Learn about more than 150 resources for entrepreneurs–funding, mentorship, co-working space, accelerator programs and more.
Mini Pitch Competitions
Watch teams comprised of students from many campuses and academic colleges compete. Top teams win $25,000 in awards at the culminating Startup Week Celebration at Pegula Ice Arena.
1000+
Penn State's brightest student innovators
42
Inspiring speakers and pitch competitions
1
Awards celebration at Pegula Ice Arena
Sign up for the monthly Invent Penn State newsletter