Save the Date - March 20-24, 2023
Penn State Startup Week powered by PNC is a University-wide event that takes place every spring and brings leading minds in entrepreneurship and innovation to Penn State campuses across the Commonwealth. The week features entrepreneurial workshops, networking events, student pitch competitions, and presentations from startup founders and corporate innovators, including many Penn State alumni.
By connecting students with innovative alumni and pioneers who are achieving success in a variety of disciplines—through startup initiatives of their own or with new ventures in already established organizations—Penn State Startup Week inspires students to go beyond what is expected of them and expand their minds to think more broadly in whatever career path they choose.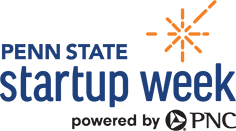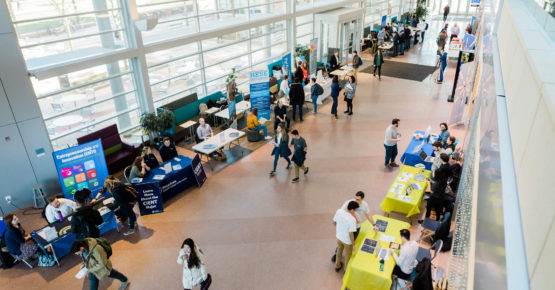 1,000+
STUDENT INNOVATORS
connected with innovative alumni and pioneers at SUW 2022
100+
SPEAKERS
engaged with students via competitions, panel discussions, workshops, and keynotes at SUW 2022
10
PITCH COMPETITIONS
for student entrepreneurs in a variety of fields culminated at SUW 2022
Inspiring Speakers
During Startup Week, students have the opportunity to hear from a wide array of talented entrepreneurs, from top corporate innovators to recent graduate entrepreneurs, and learn about their methods and keys to success as well as pitfalls to avoid.
Students can learn from presenters on how to navigate their entrepreneurial journey by participating in workshops with other students, networking with campus and industry thought leaders, and attending panel discussions highlighting high-profile entrepreneurs and innovators.
Networking Opportunities
Students who are seeking career opportunities or university resources aligned with their entrepreneurial spirit can attend the Career Services Small Business & Startup Resource Fair and Startup Market that take place every spring during Startup Week.
Students who are seeking opportunities within a small business or startup environment can network with employers who are seeking candidates for full-time, internship, co-op, and research positions.
Student Pitch Competitions
Throughout the year, a variety of student competitions are held, giving Penn State students, faculty, alumni and others the opportunity to develop and grow exciting business and nonprofit ideas. Many of these competitions use Startup Week as the setting for their final pitch contest or to celebrate major milestones in their programs.
Students can explore entrepreneurship and innovation in a variety of fields in a series of challenges and pitch competitions, including mini-challenges held during Startup Week.
Sign up for the monthly Invent Penn State newsletter