Next Conference - October 16 & 17, 2023, Hershey, PA
The Invent Penn State Venture & IP Conference is one of the largest tech startup conferences in the Mid-Atlantic, highlighting innovations from high-growth and emerging markets including IT, energy, advanced manufacturing, biotechnology, health care, B2B and B2C, among others.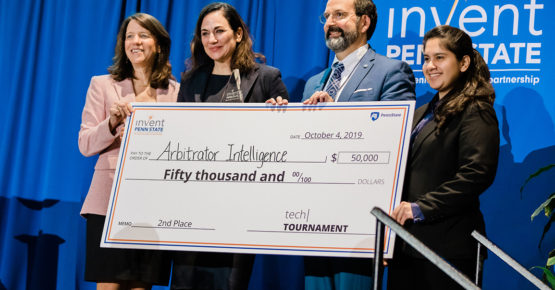 40
VENTURE CAPITALISTS
Discovered promising capital-seeking venture
80
Startups
Met 1-on-1 with VCs ready to invest
600
Attendees
Enjoyed stimulating keynotes, panel discussions and community
Venture Connection
In this speed dating-styled event, investors meet with well-screened, capital-seeking entrepreneurs in life sciences, agriculture, energy, advanced materials, education and more.
Entrepreneurs do not need to be Penn State affiliated but must apply to participate in Venture Connection. These applications are then reviewed by our Selection Committee to ensure that Venture Connection will be a quality showcase of promising technology ventures.
Entrepreneurs will be given time to give an elevator pitch to the investors. Investors will then share more about what they look for in prospects and discuss their respective funds and investment strategies. If there is a connection, private 1-on-1 meetings can be scheduled.
Over two days, 800+ meetings will take place between entrepreneurs and investors who have been pre-matched based on industry, capital needs, and other key criteria.
Tech Tournament
A showcase of disruptive technologies and early-stage companies born of Penn State's robust and diverse research enterprise.
The path brilliant ideas must travel from discovery to commercialization is often circuitous, with many challenges along the way.
The innovators featured in this tournament will have begun their journey toward commercialization with a passion for moving their ideas into the marketplace to solve real-world problems.
Join us, at the Tech Tournament, where you will find opportunities for leadership, commercialization partnership and support that will help these innovators along their path.
Penn State assistant professor and SAFE-T Center director, Sheridan Miyamoto, pitches the SAFE-T Center at the 2019 Tech Tournament. Miyamoto won 3rd place and $25,000 in funding.
Penn State Student Startup Showcase
A forum for the University's best and brightest student entrepreneurs to share with venture capitalists and other entrepreneurs how their discoveries are having a positive impact on the world.
The Showcase features promising Penn State student startups who have participated in the Invent Penn State Summer Founders Program or the Inc.U Competition.
Featured student startups are given the opportunity to pitch their startup to a crowd full of investors, venture capitalists, and like-minded innovators. Each startup also receives $2,000 to help fund their company.
Penn State student startups at the 2019 Venture & IP Conference Student Startup Showcase.
Sign up for the monthly Invent Penn State newsletter