National Science Foundation I-Corps

The NSF I-Corps program uses experiential education to help researchers gain valuable insight into entrepreneurship, starting a business or industry requirements and challenges. Participants learn valuable skills in connecting with customers, asking the right questions, and how to find partners to help get startup ideas off the ground.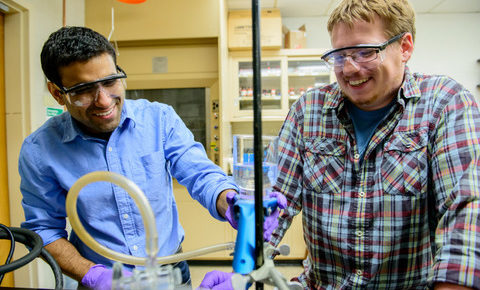 How to Get Involved
Penn State is a proud partner of the NSF I-Corps Mid-Atlantic Hub working collaboratively with other regional universities to build and sustain diverse and inclusive innovation ecosystems throughout the United States. Ways to engage:
Apply for a regional or local cohort – Penn State and other hub institutions welcome short course cohort teams throughout the academic year on a rolling basis to help researchers test a startup idea through customer discovery and lean startup methodology. Learn more about the I-Corps program.
Apply for the NSF National I-Corps program – teams that successfully complete a regional or local short course may be eligible to apply for the national NSF I-Corps program and up to $50,000 to assist with customer discovery. Learn more about the national program.
Attend upcoming trainings – attend an upcoming event to learn more about the benefits of participating in the I-Corps program. View upcoming events.
Benefits of Participation
The NSF I-Corps program will help you:
Better understand why technology has value and to whom
Explore taking new technology to the marketplace
Be in an excellent position to apply to the

National I-Corps Program

— where you'll have $50,000 in support to conduct customer discovery
Increase chances of receiving an SBIR/STTR award
Expose you to key stakeholders and funders in the entrepreneurship community
Gain support for applying to follow-on programs
Learn more about the NSF I-Corps Program
Sign up for the monthly Invent Penn State newsletter