National Science Foundation I-Corps Site

About Our Site & Microgrant Program
The NSF awarded Invent Penn State I-Corps Site status and $500,000 in September 2017 to support entrepreneurship training and microgrants for university-related startups. Eligible teams receive up to $3,000 for customer discovery to advance their ideas.
Apply Now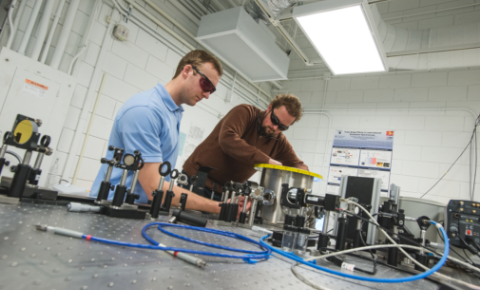 Participants may qualify for I-Corps national team and $50,000 in additional funding
The Process

1. Apply to a Bootcamp
Faculty, staff, graduate and undergraduate students, recent alumni and community members interested in exploring the commercial viability of their idea or innovation can apply to one of a number of established bootcamps based on the lean startup and customer discovery methods endorsed by NSF I-Corps.
Altoona, Altoona LaunchBox. Altoona LaunchBox engages future business owners and local entrepreneurs to explore their start-up business ideas and get feedback on challenges they face. Also offers an 8 week training program for selected startups.
Reading, Penn State Berks Idea Test Lab. Located in the Flemming Creativity, Entrepreneurship and Economic Development (CEED) Center, is a 6-week accelerator program to advance early stage STEM- related innovations.
State College, Ben Franklin TechCelerator. Located in Innovation Park, specializes in commercialization support for university research-derived technologies in complex, often regulated, markets.
State College, Happy Valley LaunchBox powered by PNC Bank. Located on Allen Street in downtown State College, Happy Valley LaunchBox specializes in support for early-stage, scalable startups focused on emerging markets, digital innovations or novel business models.
New Kensington, Penn State New Kensington Idea TestLab. Located in the Corridor of Innovation in downtown New Kensington, the 4-session Idea TestLab helps you get a better handle on what problem your customer really has, where they hang out, and what value you can provide that others can't.
Harrisburg, Penn State Harrisburg Idea TestLab. Located in the Eastgate Center, the 6-session Idea TestLab helps you get a better handle on what problem your customer really has, where they hang out, and what value you can provide that others can't.
2. Complete a Bootcamp
Once your team has successfully completed an approved bootcamp, you can apply for a microgrant. (See eligibility above.)
3. Apply for a Microgrant
Penn State I-Corps Teams
The top entrepreneurial Penn State teams are selected each year to participate in the NSF I-Corps program. Each team receives up to $3,000 for use to attend industry trade shows, visit potential customers, develop prototypes and cover customer discovery expenses. Selected teams come from a variety of different industries and focus on a variety of different problems.
Additional Funding Opportunities from I-Corps - The National Teams Program
I-Corps™ is a national science foundation initiative to increase the economic impact of research it has funded.
The I-Corps™ program was created by the NSF in 2011 to help move academic research it has funded to market. Through a dynamic collaboration with VentureWell, the NSF offers select participants from US academic laboratories the opportunity to participate in a special, accelerated version of Stanford University's Lean LaunchPad course. This revolutionary National Program engages participants in moving products out of the lab and into the market by talking to potential customers, partners and competitors and encountering the challenges and uncertainty of creating successful innovations.
The I-Corps™ environment is fast-paced and rigorous. Teams receive a $50,000 grant to expand their customer discovery. They are pushed, challenged, and questioned in the hope that they will learn quickly whether or not their ideas are worth pursuing. Teams are expected to complete at least ten customer interviews a week, which means that over the ten-week course teams have contact with 100 potential customers.
The teams—composed of academic researchers, student entrepreneurs and business mentors—participate in the curriculum via online instruction and on-site activities through one of several I-Corps™ Nodes. I-Corps™ Sites catalyze additional groups to explore potential I-Corps™ Team projects and other entrepreneurial opportunities that build on academic research.
About I-Corps National Teams Program
The team's mentor, Tim Hurley, left; mechanical engineering doctoral students Nan Sun, Birgitt Boschitsch and Jing Wang; and Tak-Sing Wong, assistant professor of mechanical engineering.
Sign up for the monthly Invent Penn State newsletter