GRK2 Inhibition by Paroxetine Ameliorates Osteoarthritis
ID# 2020-5059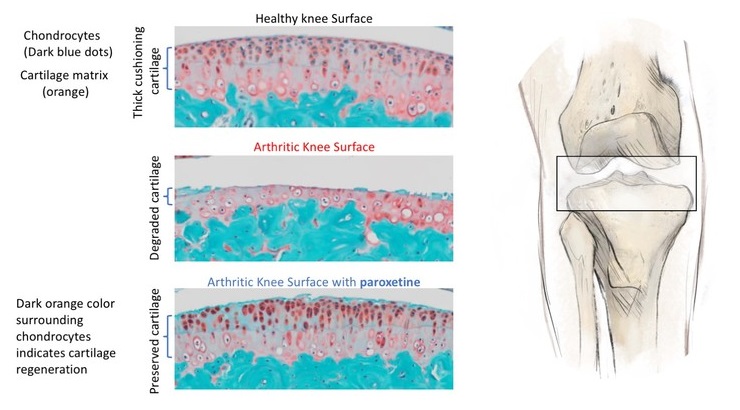 Technology Summary
Researchers have discovered that GRK2 plays a central role in osteoarthritis development and that the clinically used depressant, paroxetine, ameliorates osteoarthritis development by inhibiting GRK2. Paroxetine is a disease-modifying agent that prevents cartilage degeneration, promotes cartilage regeneration, and prevents pathological changes in the subchondral bone, meniscus, and synovium. Administration of paroxetine to mice with osteoarthritis or to ex vivo human arthritic cartilage stops the progression of osteoarthritis and promotes cartilage regeneration. Therapeutic efficacy has been shown with doses lower than those used for the antidepressant purpose of paroxetine.
Application & Market Utility
Osteoarthritis affects more than 30 million adults and is the fifth-leading cause of disability in the U.S. Currently, there are no drugs that can slow down or stop cartilage degeneration in osteoarthritis, i.e., no disease modifying agents are available. Patients with osteoarthritis use various drugs for pain management until most of the cartilage is degenerated and they qualify for knee replacement surgery. More than half of OA patients are unable to achieve adequate pain relief with current treatments. Repurposing of paroxetine could represent a holistic therapeutic approach for osteoarthritis which corrects multiple pathological facets of the disease.
Next Steps
Seeking licensing partners.
Generate PDF