Diving into Fintech with Denim Social CEO Doug Wilber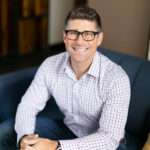 Doug Wilber is the CEO of Denim Social, a leading provider of social media management software that empowers marketers in regulated industries to manage organic social media content and paid social media advertising on one platform. A financial services veteran, Doug served in leadership roles with Assembly Payments, PYMNTS.com, Discover Financial Services and Market Platform Dynamics. He graduated from Penn State with both a bachelor's degree in marketing and international business, and an MBA with a focus on product development and brand strategy. 
In this episode, Doug talks about his experiences on the varsity cross country and track & field teams at Penn State, traveling the country in the Boca Burger-mobile, being intrapreneurial developing new products within Discover Financial Services, all leading up to becoming CEO of Denim Social.
At the end of the episode, Penn State senior Mary Richardson joins the conversation. She is the CEO and co-founder of Bindr, which is providing a mainstream dating experience dedicated to the bisexual community. Mary talks to Doug about finding the right timing to bring on investors, and how he defines success in a startup.