Special Commemorative Episode – Daring to Disrupt with Ryan Newman and James Delattre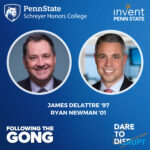 This is a special crossover episode of Dare to Disrupt and Following the Gong, a show that features conversations with Penn State Schreyer Scholar Alumni sharing advice on how to make new connections with a strong network of Scholar Alumni that blazed the trail before you. Following The Gong host Sean Goheen interviews Goldman Sachs Managing Director and Dare to Disrupt host Ryan Newman, '01 and Associate Vice President for Research and Director of the Office of Entrepreneurship & Commercialization James Delattre, '97, both Scholar Alumni, about the entrepreneurial scene at Penn State. This episode commemorates Dare to Disrupt passing 50,000 total downloads.
Ryan and James briefly share their background and time at Penn State. The conversation then covers the origin of Invent Penn State and the incredible resources available for not only students but alumni and community members looking to start, build, or scale a business. Ryan and Katie DeFiore, producer of Dare to Disrupt, share how the Dare to Disrupt podcast came to be, favorite stories, and lessons learned from both the guests and the production process. Ryan and James' bios and a full breakdown of topics discussed are available below.
Guest Bios:
Dr. James L. Delattre serves as Associate Vice President for Research and Director of the Office for Entrepreneurship and Commercialization where he leads entrepreneurship program development for the Invent Penn State initiative and leads commercialization strategy, resources and support for Penn State's startup pipeline and LaunchBox & Innovation Network. He is an alumnus of the Professional Fellows Program of the American Councils for International Education. James is the principal investigator for Penn State's National Science Foundation I-Corps Program, a member of the advisory board of the Center for Medical Innovation at the Penn State Hershey College of Medicine and serves as secretary of the Penn State Research Foundation. Prior to joining Penn State, Dr. Delattre worked in nanomaterials and semiconductor startups in central Pennsylvania and Silicon Valley. Dr. Delattre earned his Ph.D. in Chemistry from the University of California, Berkeley, and completed postdoctoral work at the Consiglio Nazionale delle Ricerche at the University of Bari, Italy. Dr. Delattre received his BS with honors in Chemistry from Penn State, where he studied inorganic chemistry and the Russian language.
Ryan Newman is a Managing Director at Goldman Sachs, where he co-founded and co-leads a private wealth management team, managing in excess of $13 billion on behalf of Fortune 500 executives, Forbes 400 families, entrepreneurs, family offices and foundations and endowments. Ryan is a member of the PWM Top Advisors and PWM Advisors Council, representing the top 10% of advisors globally at Goldman Sachs. He joined Goldman Sachs as a financial analyst in 2001 and was named a Managing Director in 2019. Ryan earned his Bachelor of Science in Economics with Honors 2001, and served as Student Marshal for Economics during graduation. Ryan is the host of the Invent Penn State podcast, Dare to Disrupt, which he helped launch, and has achieved over 50,000 downloads (as of September 2023). He also serves on the External Advisory Board of the Schreyer Honors College and the Principal Gifts Committee in Development at Penn State. Ryan is also a volunteer with the Smeal College of Business. He was awarded the Alumni Achievement Award in 2011 and the Alumni Fellow Award in 2023.
Episode Topics:
Getting to know Ryan and James as they share their Penn State origin stories and the value of the honors thesis in industry, graduate school, and entrepreneurship
Pursuing an industry route rather than an academic route with a STEM PhD
How Invent Penn State came to be and how it helps bring the University's Land Grant mission to life in the 21st century for all citizens of the Commonwealth
How to get plugged in with the incredible programs and resources available from Invent Penn State
How and why to get involved as an alumni volunteer and/or donor, especially in the entrepreneurial space
The origin story of the Dare to Disrupt podcast and how it gets made
Leveraging success and momentum into more success and momentum
Lessons learned from hosting Dare to Disrupt
Handling rejections or failures