Penn State Alumni Invention May Yield Significant Advances in Wrist Arthritis Treatment
Wrist arthritis is a pervasive ailment that impacts one in seven Americans, and more than 75 percent of those 65 and older. It is usually degenerative and has a significant effect on the patient's quality of life regardless of their age. Wrist arthritis makes many common activities, like opening a door, preparing meals, using the bathroom, or driving a car extremely challenging, and over time, impossible to perform, as the pain and lack of strength and mobility increase.
In simple terms, arthritis occurs when cartilage, the smooth covering protecting the tops of bones in a joint, wears away and no longer prevents the bones from rubbing against each other. The removal or erosion of cartilage typically occurs in one of three ways:
Osteoarthritis, the natural wearing-away of cartilage over time;
Rheumatoid arthritis, an autoimmune disease which causes naturally occurring antibodies to attack a patient's healthy cartilage; or
Posttraumatic arthritis, in which an injury realigns the bones in a way which reduces the cartilage's protection or damages the cartilage directly.
This is the backdrop for an incredible discovery in the treatment of wrist arthritis by two Penn State doctors – Shane Rothermel, MD, Clinical Specialist, Orthopedics Chief Resident and Scott Tucker, PhD, Engineering Specialist. Tucker is the first MD/PhD student at Penn State's College of Medicine to receive a PhD in Engineering Science and Mechanics.
Now partners in a budding company currently dubbed Total Wrist Arthroplasty, Rothermel and Tucker met as undergraduate students and became fast friends and collaborators on many exploratory medical research projects. Over the past few years, and with essential funding from The Penn State Research Foundation, they have focused on wrist arthritis and improving outcomes for patients whose needs are not adequately addressed by current treatment options: fusion, proximal row carpectomy (partial wrist fusion) and total wrist arthroplasty (total wrist replacement).
The invention Rothermel and Tucker developed and are moving to commercialize hopes to offer wrist arthritis patients significant improvements in outcomes for the major challenges and limitations they face – range of motion and structural durability, along with the potential for reduced pain and discomfort.
Their device (metallic prototype pictured below) is a total wrist replacement structure with a kinematic-inspired design that closely mimics a healthy human wrist. It is semi-constrained to drastically improve stability, range of motion and comfort over current treatment options, and because their production plan employs 3-D printer technology, the fabricated wrist can be customized for each patient.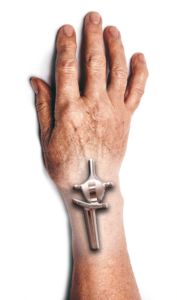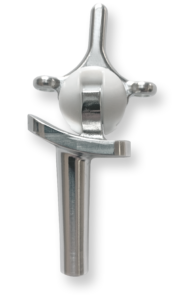 Rothermel and Tucker have made tremendous progress in production and testing, including stress testing, 3D prototyping, cadaver testing, and an ongoing battery of mechanical testing. They have acquired a provisional patent and have filed paperwork for an international patent as well.
Their goals for this year include acquiring FDA regulatory approval, manufacturing a medical-grade prototype, and publishing their study results. The next steps beyond that are more open but include formalizing Total Wrist Arthroplasty into a company to manage production, distribution and legal considerations, or partnering with a medical device manufacturer to oversee the integration of their invention into the framework of viable treatment options. Another possibility is identifying an external buyer to be a steward for their incredible discovery and introducing their invention to the market.
Whether they fully formalize as a business entity, partner with a medical device company, or sell their invention to a third party, when their total wrist replacement invention is introduced into the market, the outlook looks extremely positive for wrist arthritis patients.
By devising an ingenious replication of the wrist itself, they have leveraged the brilliance of the body's natural design. The flexibility, range of motion, and strength of the wrist are captured by their invention and restored to the patient, giving them back the extraordinary gift of independence.