LaunchBox & Innovation Hub Network Celebrates 5 Years of Economic Development Success
Just five years after opening the first LaunchBox, Invent Penn State's LaunchBox & Innovation Network has grown to 21 locations across Pennsylvania. The Network has supported 3,325 community entrepreneurs, launched 164 new Pennsylvania companies, created 247 new products, and created 194.5 jobs. 
The LaunchBox & Innovation Hub Network began modestly in 2015 when five Penn State campuses received $50,000 each from Invent Penn State's competitive seed grant program. Each campus was awarded a grant to create community innovation hubs, with the ability to receive repeat funding for three years. The demand for innovation across the Commonwealth surged and over the next three years expanded to 21 campuses. Today, 96% of Pennsylvanians have a LaunchBox or innovation hub within 30 miles of where they live or work.   
"Our commitment to empowering entrepreneurs and driving innovation and economic development across the Commonwealth through the Invent Penn State initiative continues to produce incredible results," said Penn State President Eric Barron. "In just five years, we have succeeded in building a network of innovation hubs which each act as unique and vital parts of their respective communities, driving local economies and job creation across the state."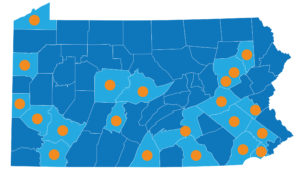 Invent Penn State's LaunchBox & Innovation Hub Network is having a significant impact on entrepreneurial communities across Pennsylvania. The 21-hub network provides Penn State communities no-cost coworking space, makerspace, accelerator programs, pitch competitions, speaker series, access to experts and mentors, and legal and IP advice through Penn State Law clinics.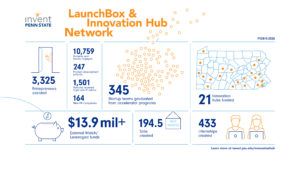 LaunchBox accelerator programs like the FastTrack Accelerator, Idea TestLab, and Idea DesignLab have graduated tech startups with innovations that range from protecting the environment to improving access to healthcare—all while enhancing student career success and growing the Pennsylvania economy.     
One of the early startup successes of the LaunchBox & Innovation Hub Network is State College-based Phospholutions, a sustainable fertilizer, aquatic management, and environmental remediation startup founded in 2016 by Penn State College of Agricultural Sciences alumnus Hunter Swisher. 
Then an undergrad, Swisher went through a Happy Valley LaunchBox powered by PNC Bank accelerator program to develop a soil-amendment product called RhizoSorb®. With research showing more than half of fertilizer applied is never actually utilized by plants, RhizoSorb® aims to naturally improve nutrient retention, increase plant uptake, and ultimately reduce leaching and phosphorus waste. This year, Phospholutions has raised up to $10.25M through an investment round led by Continental Grain Company (CGC) Ventures to support the development and growth of their RhizoSorb® technology across market segments. Phospholutions currently has 20 employees. 
"From the moment I learned about the technology in the classroom through the point of raising this round of financing, I have been supported by the incredible staff and organizations that make the Happy Valley entrepreneurial ecosystem what it is today," Swisher said. "The LaunchBox was where Phospholutions transitioned from an idea to a real company. We utilized the law clinic for everything from forming an LLC to structuring employee contracts and commercial agreements to terms and conditions for our website." 
Due to the COVID-19 pandemic, most of the LaunchBox and innovation hub locations were forced to close their facilities. However, the network swiftly pivoted to deliver needed programming and services online. For an overview of resources being offered by the 21 hubs across the commonwealth, click here.   
"The LaunchBox & Innovation Hub Network has impacted Pennsylvania communities beyond what we could have reasonably expected," said James Delattre, associate vice president for research and director, Office of Entrepreneurship & Commercialization. "The program feels especially prescient given the challenges everyone has faced during the pandemic. Their ability to pivot and provide entrepreneurial training virtually, when more people than ever are depending on it, has been a game changer in some communities."  
While the LaunchBox & Innovation Hub Network services can be offered by every hub, each one is set up to provide resources specific to the needs of their community. 
For example, the Berks LaunchBox specializes in supporting technology-based, medical innovation, and social enterprise startups. Since expanding into the GoggleWorks Center for the Arts in 2019, the Berks LaunchBox has assisted 114 entrepreneurs, graduated 18 startups, and created 10 jobs.
Located in a predominantly Latinx community, the Hazleton LaunchBox supported by Pasco L. Schiavo Esq. offers bilingual programs to help local entrepreneurs make their business ideas a reality. The programming includes accelerator programs and educational sessions, with topics ranging from idea design and test labs to business skill improvement and have extended to cover ways to help entrepreneurs deal with the COVID-19 pandemic. Hazleton LaunchBox has supported more than 200 community members and provided a range of services for more than 30 businesses.  
"Penn State's 20 Commonwealth Campuses are embedded in their communities which uniquely positions the university to have broad, positive economic impact across the state," said Madlyn Hanes, Senior Vice President for Commonwealth Campuses and Executive Chancellor. "Our innovation hubs are agile – they anticipate and respond to the needs of their communities and are full partners in advancing economic development and entrepreneurship. They operate as one interconnected ecosystem which leverages their collective capability to benefit communities throughout the state." 
Invent Penn State's LaunchBox & Innovation Hub Network is always growing, and a construction and a capital campaign are underway for the Penn State Innovation Hub in downtown State College. Located on South Burrowes Street, the six-story, state-of-the-art, multi-use center will serve as the cornerstone of Penn State's entrepreneurial ecosystem.  
Key to fulfilling Invent Penn State's economic development vision, the hub will provide the community access to high-end physical and digital making resources as well as offering coworking and event space and serving as the new home for Happy Valley LaunchBox. Find photos and more details on the new giving website here. 
To celebrate five years of impact, we will be releasing stories highlighting startups, economic development, and student success in the coming months – stay tuned! 
Invent Penn State is a Commonwealth-wide initiative to spur economic development, job creation and student career success. Learn more. 
To view more Penn State-affiliated startups, visit StartupNavigator.psu.edu. Entrepreneurs seeking resources can visit ResourceNavigator.psu.edu.