Making Entrepreneurship Accessible in Rural America
A special note
From the Kauffman Foundation
I certainly hope you find this playbook – Making Entrepreneurship Accessible in Rural America – a useful learning and inspirational resource to propel your participation in forming effective and inclusive entrepreneurial ecosystems in your communities.
From where I sit, our colleges and universities are unique: You're at the center of many communities in America that need a new way forward.
All of you can learn, or already understand, the barriers facing aspiring and existing entrepreneurs. You know the changes happening in your communities. You are aware of what everyone—including those who, like me, were told at some point in their learning or life cycle that their ideas were not good enough—needs to study and learn so they can walk away with the skills and resources to start a business or to find a job right away.
Nobody is in a better position than universities to convene the critical conversations…to bring together employers, innovators, elected officials, and community leaders to address the skill gaps in our communities, and to train workers for careers that meet local needs and provide sufficient wages to support themselves, their families, and their dreams…all while building a better, more inclusive economy.
It's up to the people, up to the institutions with the resources, influence, and power, to make sure everyone knows what's possible, to make sure no one gets left behind, and to build trust and instill hope in communities through inclusive listening and outreach. It's up to all of us to make sure everyone who wants to start a business can.
I believe there is genius just waiting to be ignited in communities across Pennsylvania and America. There are millions of aspiring and existing entrepreneurs who just need a chance to show what they can do.
I applaud the Invent Penn State initiative in increasing local economic development through an entrepreneurial lens and through a unique platform and network. Many of the learnings discussed in this playbook can also be adapted for us by economic development organizations, local leaders, and entrepreneurs working to build and expand resources that support and spur new businesses.
Looking forward I hope the initiative is part of a larger national conversation and collective on how institutions with access to considerable resources—small to large—can lead economic growth and mobility through entrepreneurship, opportunity, and inclusion. To continue to understand that collaboration, listening, and understanding are key to our success.
In the words of our founder Ewing Marion Kauffman, "All the money in the world cannot solve problems unless we work together. And, if we work together, there is no problem in the world that can stop us, as we seek to develop people to their highest and best potential."

Philip Gaskin
Strategic Advisor to the Office of the President/CEO and Executive Fellow, Entrepreneurship and Economic Mobility
The Kauffman Foundation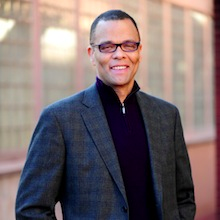 Learn more about the people who made all of this possible from the very beginning.