Making Entrepreneurship Accessible in Rural America
A special note
From the Desk of Penn State President Emeritus Eric J. Barron
When I started my tenure as Penn State's 18th president in 2014, I traveled all over Pennsylvania and met with scores of alumni, students and community members where our commonwealth campuses are found. And, I noticed a few things. The first was that a remarkable number of our very successful alumni are entrepreneurs. But while they may see their success as an extension of a great education, the university, by and large, did not have a direct role in the success of their companies.   
I also realized that a remarkable number of students see themselves as creative and inventive, and they are driven to solve problems they've noticed in the world or come up against in their personal experiences. These individuals, eager to learn, thrive in an entrepreneurial environment.   
I saw that not all successful alumni entrepreneurs were business majors, and that entrepreneurial interest was strong in every major. And I found that young entrepreneurs were leaving Pennsylvania and moving to major cities with reputations of being supportive entrepreneurial environments.  
I believed the key to addressing multiple issues was to put all of those elements together, to (a) support the keen entrepreneurial interests of our students, faculty, staff and community members across the university system; (b) enable future alumni to be even more successful and for Penn State to be a key partner in that success; and (c) strengthen the economy of our state.  
When universities focus on inventions, they often focus on tech transfer, enhancing connections to industry, and bolstering licensing and patent functions for faculty. Most universities have an ownership in employee intellectual property, and inventions can be a revenue source. What I realized was that Penn State's investment in student entrepreneurs, both in helping them to turn their ideas into viable businesses and in building entrepreneurial skills useful in any career, lagged behind our investment in tech transfer.   
That is, in part, what makes Invent Penn State a very different model—one that melds the full spectrum of startup services with the university learning framework. Included are coursework and minors; competitions; legal aid; sponsorships and financial support; staffed facilities (LaunchBoxes) that support ideas, business models, and startup development; tech transfer support; plus, tiers of seed money and investment opportunities.   
As a land-grant institution, I believed the LaunchBox spaces should not be on Penn State's campuses, and that they should be open freely to the community, not just those affiliated directly with the university. At the same time, the multiple-campus structure of Penn State opened the door to have LaunchBoxes and entrepreneurial efforts in several areas across Pennsylvania where a campus was nearby to help support it. That is the model for Invent Penn State. 
The benefits are clear: more successful students, faculty and staff following their passions; a greater connection of alumni to Penn State, leading to greater philanthropy; and more communities focused on building Pennsylvania's economy based on a young and vibrant business community.   
This is a natural extension of the university's greater purpose as a land-grant institution, which was created "in service to society." Historically, land-grant universities have done this with programs focused on mining, industry and agriculture across their state. What could be more natural to extend Penn State's "service to society" than to create an extension program of economic development across Pennsylvania? The Invent Penn State LaunchBox & Innovation Network and related entrepreneurial programs open to the entire community near every campus are the foundation of this economic development extension.   
State government support for Invent Penn State affirms our common goal to promote economic development—and takes it to a new level of stability and capability. At the same time, partnerships with communities, with the expertise and financial support of our alumni, and with other economic development entities like Ben Franklin Technology Partners and Small Business Development Centers have created even greater success and potential for this initiative.  
Invent Penn State's tagline sums it up, "The Ingenious Power of Partnership."  

Dr. Eric J. Barron
President Emeritus
The Pennsylvania State University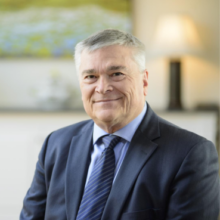 Learn more about how rural entrepreneurship is declining, and why it matters.